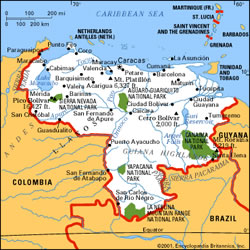 Venezuela is located towards the north of South America with a total area of 912, 050 square kilometers and a land area that is 882,050 square kilometers. It borders the Caribbean Sea and the Atlantic Ocean to the north, Guyana to the east, Brazil to the south and Colombia to the west. There are four regions that make up this country, the Maracaibo lowlands which are in the northwest, the northern mountains which extend from the east west from the Colombia border to the Caribbean Sea, the Orinoco plains which are situated in the central part of Venezuela, and the Guiana highlands towards the southeast. Caracas, the capital of Venezuela, is home to about 5,500,000 people. Along with the continental mainland, there are many small islands that lie just north to the country, off the coast.
In the northwest where the Maracaibo lowlands are located, you will find flat land towards the Caribbean, and swampy area circling the Lago de Maraciabo. Despite the fact that this region carries rich agricultural land along with large petroleum deposits, it contains a very small population.
Up towards the Caribbean Sea is where you can find the northeasternmost extension of the Andes Mountains. With snowcapped mountains, it is beautiful, containing some of the highest peaks in the country. There are other mountain ranges nearby along with valleys in between, leading way to the site for the country´s capital, Caracas.
Further down you will find the great scope of land known as the Orinoco plains which extend west from the Caribbean coast to the Colombian border. There are beautiful rivers flowing out of the mountains in this area, though there are also shallow valleys and swampland as well.
The Guiana Highlands which are part of the oldest land foundations in South America, come up from the Rio Orinoco. This region makes up over half of the country, with plateaus and rolling plains. Angel Falls, the world´s highest waterfall is also located here.